Family Concert 2023 Program (SYSC No. 37)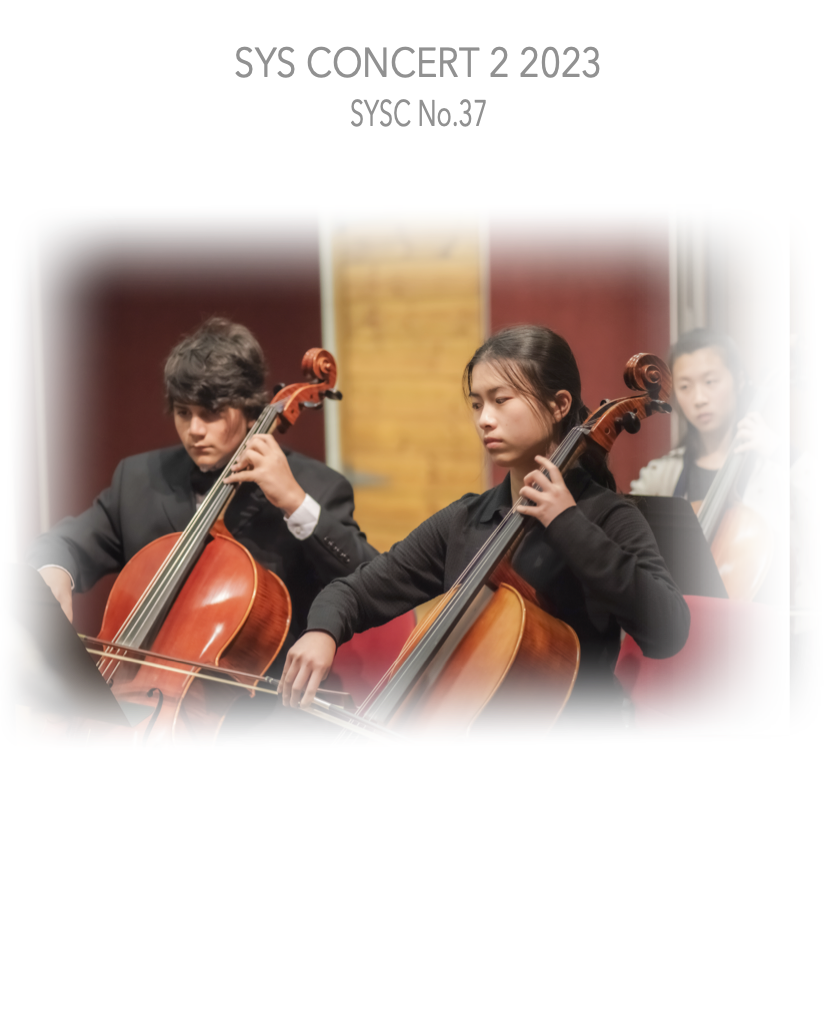 Sydney Contemporary Orchestra
YOUTH SYMPHONY
FAMILY CONCERT 2023
SYSC No. 37
WELCOME
Welcome to our Family Concert 2023.
This concert is the conclusion of our Orchestral Training semester 1.
During this semester's training, the Junior Orchestra has learned five fundamental pieces for string orchestra. The Youth Orchestra has learned Mozart Symphony No.31 (Paris) and Beethoven Symphony No.2. They have experienced the essence of classical music musically and structurally.
I would like to thank the Hills Shire Council and Baulkham Hills High School for their great support.
Sincere thanks to our management team without whom nothing could have been done.
Dr Brian Chatpo Koo
Artistic Director
Sydney Contemporary Orchestra
YOUTH SYMPHONY
---
PROGRAM
Sydney Hills Junior Orchestra
Music for String Orchestra
Sydney Hills Youth Orchestra
Wolfgang Amadeus Mozart
Symphony No.31 in D Major
"Paris"
I Allegro assai
II Andantino
III Allegro
Ludwig van Beethoven
Symphony No.2 in D Major
Op.36
I Adagio molto, Allegro con brio
II Larghettoz
III Scherzo
IV Allegro molto
Conductor
Dr Brian Chatpo Koo
Concertmaster
Rachael Gock
---
YOUNG MUSICIANS
VIOLIN
Rachael Gock*
Emma Kan
Uthuli Samarasekara
Calleigh Chow
Aimee Lin
Phoebe Ge
Airel Kan
Oliver Xi
Charis Song
Zarah Wickramage
Harvey Li
Elaine Zhu
Isabella Hu
Emily Shi
William Li
Jackson Ou
Nita Siriya Mangmessrisuk
Lucas Sun
Araliya Wickramage
Mathew Huang
Jason Ou

VIOLA
Hannah Zhou
CELLO
Roger Gock
Hayden North
Valery Lin
Katelyn Li
Klarissa Chen
Ashleigh Wong
Caroline Zhou
DOUBLE BASS
Lyra Xi
FLUTE
Eva Tong
Joyce Chen
Shirley Chen
CLARINET
Ashton Hsiau
Elina Feng
Matisse Mok

HORN
Grace Li

PIANO
Lucas He
*Concertmaster