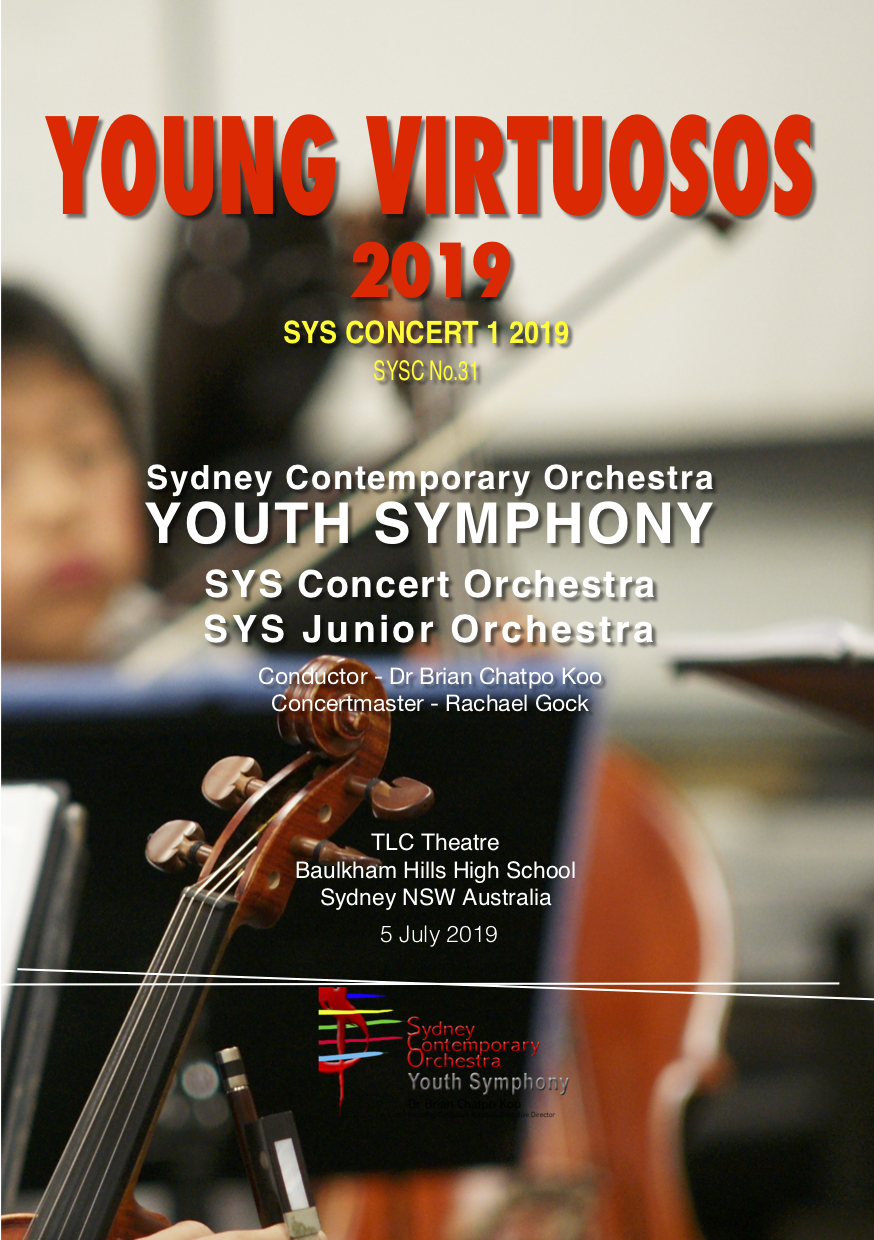 ---
Welcome

Dr Brian Chatpo Koo
Founding Conductor, Artistic & Executive Director
Sydney Contemporary Orchestra
Welcome to our concert of Young Virtuosos 2019.
We are highly honored by the presence of the Mayor of the Hills Shire Council, Dr Michelle Byrne at the concert again.
As usual, you will hear two great symphonies by Mozart in the concert. Apart from these symphonies, this concert is specially designed for orchestra members performing solo pieces accompanied by the orchestra. In this evening you will see those young musicians how to show their impressive improvements and achievements.
Sincere thanks to those parents who give their kids the opportunity to be a part of our orchestras. I am sure this experience will broaden their vision globally, and enhance their learning and understanding culture and civilization of human society, which can benefit them over a lifetime.
Sincere thanks to our volunteer Management Committee managers without whom nothing could have been done.
I would like to thank our generous sponsors, the Hills Shire Council, Baulkham Hills High School, and especially the presentation of our Mayor, Dr. Michelle Byrne.
Dr Brian Chatpo Koo
Artistic Director
Sydney Contemporary Orchestra
YOUTH SYMPHONY
---
YOUNG VIRTUOSOS 2019
Designed for the exhibition of young musicians' virtuosity, this concert features orchestra members performing solo pieces accompanied by the orchestra.
It provides an unprecedented opportunity for young musicians to have their first attempt as a soloist accompanied by an orchestra in front of a live audience. Learning the procedure and etiquette involved in such a performance will bring to a young musician an unforgettable and empowering experience. This valuable and unique experience will elevate their performance qualities and their love and passion for music.
---
ABOUT THE SCO YOUTH SYMPHONY
The training arm of the Sydney Contemporary Orchestra Inc. (SCO), the SCO Youth Symphony (SYS) is our Youth Program for young music lovers, music students, young musicians, and young music teachers in Sydney, Australia.
Led by its Founding Conductor, Artistic & Executive Director, Dr. Brian Chatpo Koo, the SYS offers young music lovers the opportunity to play and enjoy classical orchestral music of all kinds, not only performing but also learning to understand how those masterpieces were constructed, and expanding their orchestral music education training and orchestral music performance experience. The orchestra also broadens their potential music career by building up their orchestral music repertoires, as well as imparting to them the value of communication, teamwork, and discipline.

To achieve one's full potential as a musician what better and greater opportunity there is for a youngster than being part of the SYS Orchestras. With professional training and be influenced by the classical symphonies, you will be equipped to broaden their vision globally and to enhance their understanding of human civilizations.
---
ABOUT THE ARTISTIC DIRECTOR
Dr Brian Chatpo Koo is a Sydney-based musician.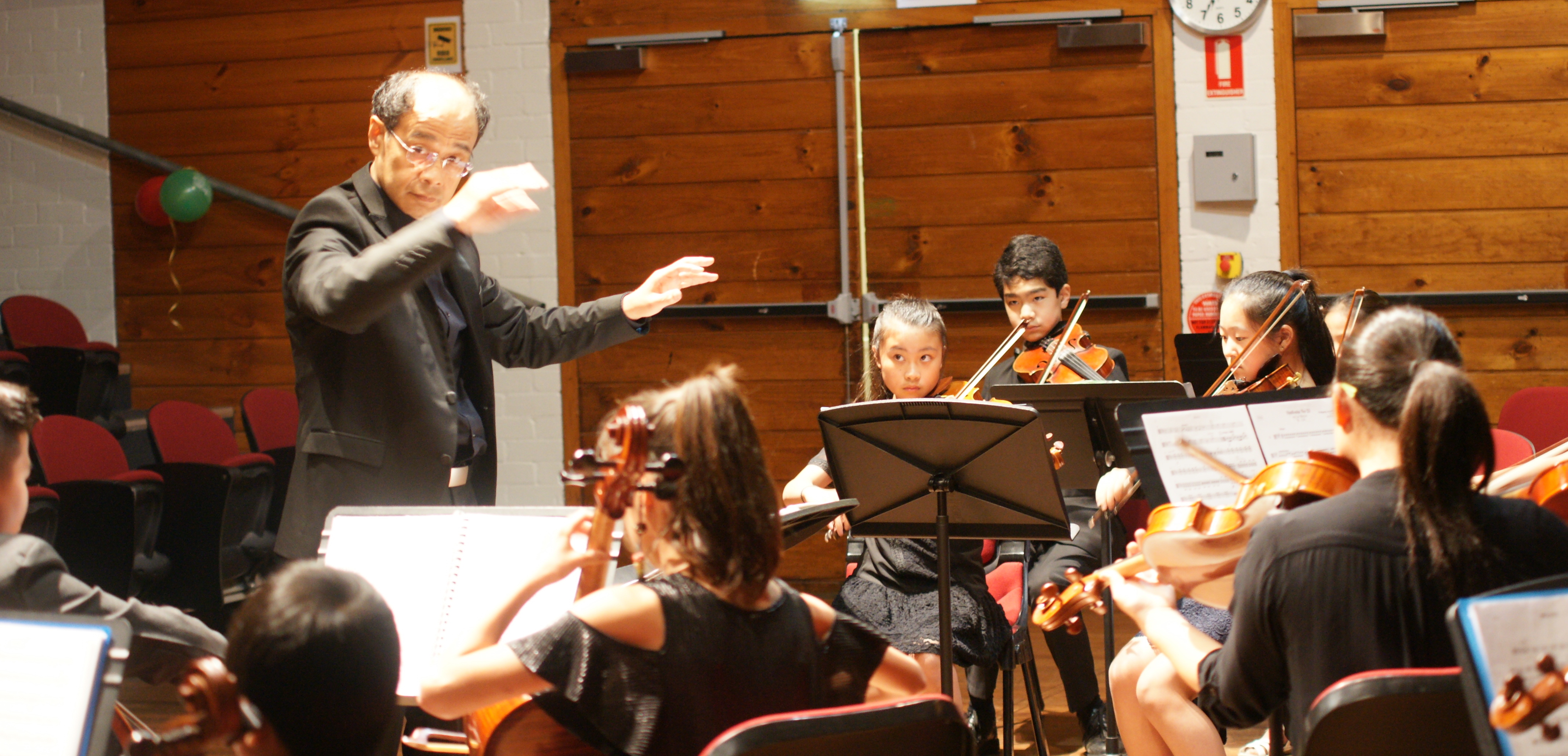 Having studied music at the University of Hong Kong and the University of Sydney, Brian was the first person in Australia to receive a Ph.D. degree in music composition. Supported by the Hong Kong University Grant, Brian also studied music at the International Summer Course for New Music in Darmstadt, Germany, and obtained his Licentiate and Fellowship Diplomas from the Trinity College of Music in London.
He founded the Sydney Contemporary Orchestra in 2013. Together with about 100 of the finest Sydney professional musicians and a strong volunteer management team, Brian is dedicated to creating a platform where more new orchestral works can be written, performed, heard, recorded, published, and become a part of our music culture, as he believes music development history is written by composers' creativities. To encourage and to reach the pinnacle of this creativity and art, Brian believes that it must through devotion, perseverance, determination, and the most importantly through constant performances. Since 2013 the SCO has held 11 concerts, performed 38 new works of the composers from 22 countries.
Brian also founded the SCO Youth Symphony, a training arm of the Sydney Contemporary Orchestra, in order to provide professional orchestral training to young musicians, as he believes with classical music training and carefully selected programs covering a variety of cultural perspectives, young musicians can be equipped to broaden their vision and to enhance their understanding of culture, civilization and human society.
He founded the Western Sydney Symphony Orchestra in 2019 with the aim to enrich the music culture live of Western Sydney by providing fantastic opportunities for the local music lovers to play and enjoy classical music. Through these events, he wants to build a more vibrant, sustainable, and inclusive local community for lovers of classical and symphonic music.
---
PROGRAM
Conductor – Dr Brian Chatpo Koo
Concertmaster – Rachael Gock
SYS Junior Orchestra –
1. Mozart Symphony No.40 Allegro molto
2. Timothy Phokos – German Dance by K. D. von Dittersdorf
3. Isabella Kong – Theme from "Witches' Dance" by N. Paganini
4. Jaden Choi – Spinner's Waltz by C. Lumsden
5. Douglas Ip -Dance Characteristique by V. Rebikov
6. Angela Chiu – Spasvogel by A.T. Grechaninov
7. Elina Napernikova – Humoreske by A. Dvorak
I N T E R V A L
SYS Concert Orchestra –
1. Roger Gock – Harlequinade by W.H. Squire
2. Audrey Stavropoulos – Hungarian Dance by A. Nolck
3. Jack Ji Fang – Hungarian Dance by A. Nolck
4. Jade Li – Rondo alla zingaresa by H. Ernst
5. Orli Ades – Theme from Schindler's List by J. Williams
6. Alina Lin – Csardas by V. Monti
7. Mozart Symphony No. 24
– Allegro spiritoso
– Andantino grazioso
– Allegro
All solo pieces arranged for orchestra by Dr Brian Chatpo Koo
---
YOUNG MUSICIANS
VIOLIN
Rachael Gock*
Orli Ades
Alina Lin
Jonathan Yap
Joel Tng
Grace Liu
Kiana Napernikova
Nicholas Ip
Audrey Stavropoulos
Timothy Phokos
Emma Kan
Douglas Ip
Isobel caffyn
Isabella Kong
Maya Kikuchi
VIOLA
Jessica Koo
Jaden Choi
Jack Ji Fang
Jade Li
CELLO
Felix Soon
Elina Napernikova
Joshua Koo
Roger Gock
Angela Chiu
Brendan Kye Jian Cheong
DOUBLE BASS

Bryton Johnson

FLUTE
Isabella Neville
Adhav Manoj Pillai

PIANO

Joel Tng
---
MANAGEMENT COMMITTEES
SYDNEY CONTEMPORARY ORCHESTRA
MANAGEMENT COMMITTEE
President – Dr Brian Chatpo Koo
Vice President – Julia Farquharson
Secretary – Rajishwar Datt
Treasurer – Lalesh Chand
Rawah Dorranian
Linda Haworth
EXECUTIVE COMMITTEE
Artistic & Executive Director – Dr Brian Chatpo Koo
Office Manager – Raj Datt
Finance Manager – Lalesh Chand
Publicity Manager – Rawah Dorranian

YOUTH SYMPHONY MANAGEMENT
Membership Manager – Eva Lau
Development Manager – Jennifer Leung
Concert Manager – Rita Lee